Bicester COVID-19 Vaccination Update for Patients
THIRD DOSE BOOSTER VACCINATIONS ARE NOW UNDERWAY AT THE BICESTER HERITAGE SITE  - BY APPOINTMENT ONLY. WE WILL CONTACT YOU WHEN A VACCINATION IS AVAILABLE FOR YOU AND IF YOU ATTEND FOR ONE AT BICESTER HERITAGE YOU'LL USUALLY BE OFFERED A SEASONAL FLU JAB AT THE SAME TIME.
We are texting and calling patients about appointments. PLEASE PICK UP ALL YOUR CALLS - INCLUDING ONES THAT MAY SAY THE NUMBER IS 'PRIVATE' OR 'WITHHELD' AS THIS MAY BE FROM YOUR SURGERY. BEWARE OF POSSIBLE SCAMS - REMEMBER THAT THE NHS WILL NEVER ASK YOU FOR FINANCIAL DETAILS, OR PERSONAL DOCUMENTS LIKE YOUR PASSPORT OR TO PAY FOR A COVID-19 VACCINATION.  WE ARE NOT PERMITTED TO LEAVE MESSAGES ON AN ANSWERING MACHINE. 
We send a text or phone you directly to offer a vaccination and if you have a mobile phone number registered with us then we will try to contact your mobile number first.  If we cannot make contact on your mobile number then we'll  try your landline next, or you'll get a letter. If you need to let us know your contact number click here.
The days and times of Bicester Vaccination Centre's opening will continue to be determined by the delivery dates of vaccine and when we are able to arrange vaccination sessions. You may see that the Centre is not always active when you are passing and at these times our staff will be back at the surgeries and engaged in working there. 
Bicester Vaccination Centre at Bicester Heritage in Autumn 2021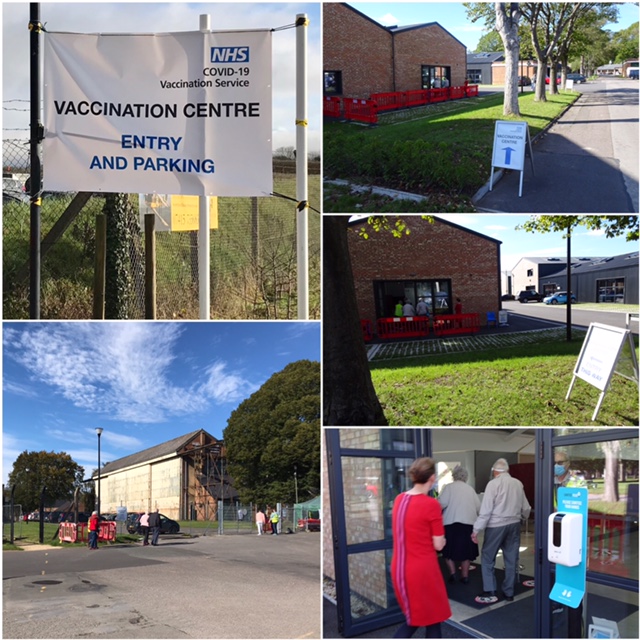 Please note that the autumn 2021 booster jabs are being carried out at a different unit within Bicester Heritage. Arrivals and parking are exactly the same as before.
The new unit is a similar distance from the gate and our volunteers will be pleased to help direct you. Our pictures show the way to the new unit. 
You must still wear a mask or facecovering when attending the Vaccination Centre. This protects you, other visitors and our staff. Thank you.
PLEASE TRY TO AVOID MAKING UNNECESSARY CALLS TO YOUR PRACTICE, as this impacts all our other work, such as handling appointments for patients with a need for urgent health consultations. If you need to call about vaccinations then please do so after 3pm on any of our working days.
Some patients may have received a letter or text direct from the NHS giving them information on how to book a vaccination appointment at one of the  vaccination centres other than Bicester Heritage.   If you wish you can book a vaccination at one of these other centres by following the instructions on the NHS letter or NHS booking website.  It is not possible to book your Covid-19 booster jab at Bicester Heritage via the National Booking Service - you can only book in for Bicester Heritage via the text sent to you from the Bicester GP practice at which you are registered as a patient.
To use the National Booking Service to make a vaccination booking or manage an existing one please click here for more information.
We request that all our patients show understanding and support if services should be different or if it takes a little longer to contact your doctor or when seeking other help at our surgeries during these extrordinary circumstances and while many of our staff are working to patients' needs both in the surgery and the Vaccination Centre.
This page was most recently  updated on 8th October 2021
Published: Jan 29, 2021