Ordering a repeat prescription
Please note: We are now accepting payment for medication by card only. No cash or cheques please.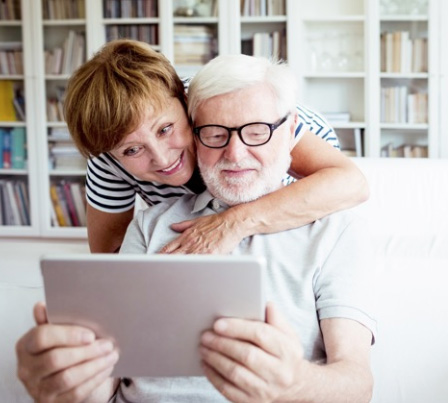 Order your repeat prescription online at a time that suits you.
Your details and information are protected by the highest standards of online security, so all you need to worry about is what to do with the spare time you've earnt.
Problems booking online appointments?
Before you call us.
Repeat Prescriptions
We'd like you to ALWAYS consider using either Patient Access or the NHS App to order your repeat prescriptions. You'll find the app is simple, quick, and usually more convenient. 
Please give at least three working days in notice
Alternatively, you can order your medication with a direct email to alchester.dispensary@nhs.net. You can also order via your chemist or drop your paper request in to the surgery via our postbox on the wall opposite our main door at Victoria House.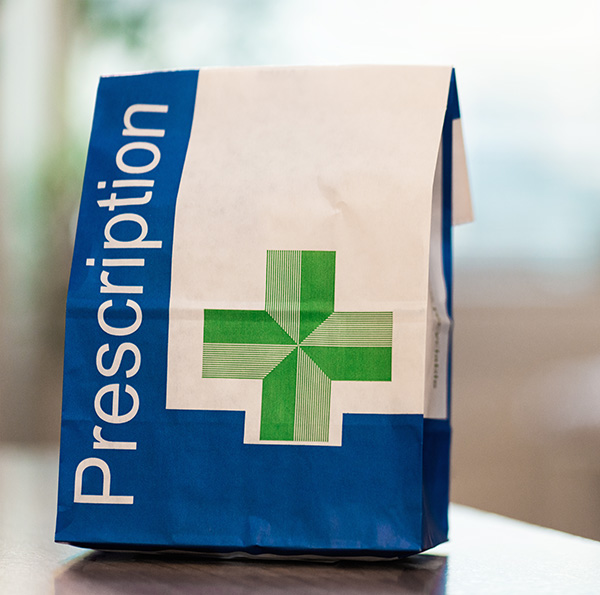 To help our patients and to ease the pressure on our phone system, we've now introduced an alternative email if you have dispensary related questions or you're seeking INFORMATION connected to the dispensary. In this case please email: alchester.medicationadvice@nhs.net 
Always remember to include your name, address and date of birth in your email and please be aware that we may have to wait for information from a clinician before we can reply to your query.
Please note, we will process your request as usual and if the dispenser needs to, they will get in touch with you - we don't usually reply to requests if there is no query.
We ask that requests for medication to be made approximately a week before you run out, your assistance with this will be much appreciated. Requests made too early may not be processed, however if the early request is due to holiday for example please be sure to notify the dispensary at the time of making the request so it can be actioned.
We are able to dispense to all our patients in rural areas - if you live in a village and would like to take advantage of our dispensing service then please contact the dispensary. 
As part of good clinical practice, repeat prescriptions are reviewed regularly by your doctor, who may insist on seeing you before issuing a repeat prescription, so at these times the process may take a little longer. Please ensure that you re-order in good time to avoid running out of your medication.
Please check all items carefully to ensure they are correct, and if, for any reason, you do not complete a course of medication or it becomes out of date, please return it to the dispenser for safe disposal.
We regret that we are unable to accept telephone requests for repeat prescriptions. This is for security and safety purposes.
Antibiotic Prescribing
As part of good clinical practice we only prescribe antibiotics when appropriate to do so. Many cases of, for example, sore throats, earache and coughs are caused by viruses and do not respond to antibiotics. These conditions will resolve with time and the use of symptomatic treatment. We are always happy to review you if the symptoms persist.
Dispensary
We dispense prescriptions for those patients who live more than one mile from the nearest pharmacy.
The dispensary at Victoria House Surgery is open at the following times:
Monday to Friday: 8.30am to 1.00pm and 2.00pm to 6.00pm (Dispensary is closed between 1 and 2pm).
Electronic Prescription Service (EPS)
The below leaflet outlines how the service functions. If you would like to have your prescription electronically sent to a nominated Pharmacy, please contact either your preferred Pharmacy or the Reception team.
New restrictions on prescribing Over-the-Counter medicines
We have been given new guidelines by the Oxfordshire Clinical Commissioning Group (OCCG) regarding the prescribing of medicines which patients can buy over the counter (OTC) at, for example, the local pharmacy or supermarket.
This list is illustrative and not exhaustive but shows where prescribers (GP's and in some cases Nurses) may consider asking you to buy OTC medicines rather than providing you with a prescription:
Paracetamol unless more than 32 tablets per week are required for a chronic condition
Ibuprofen and other OTC NSAIDs unless more than 28 tablets per month are required on an ongoing basis for a chronic condition
Topical NSAIDs and equivalents unless required for a chronic condition that is not expected to improve and where patients are not suitable for oral NSAIDs
Oral and/or topical antihistamines except where required on a continuous basis for chronic rhinosinusitis and chronic uritcaria
Antacids (anyone requiring more than occasionally is likely to be more suitable for a PPI or equivalent)
Ear drops to soften wax or cleanse ear canals in management of mild otitis externa unless required for prevention of chronic or recurrent otitis externa
Eye drops/ointments for dry eyes unless OTC preparations are ineffective are one month trial
Sodium cromoglycate eye drops unless for an indication other than seasonal allergies
Topical treatments for heamorrhoids unless failure to respond to OTC preparations containing steriod and local anaesthetic
Topical local anaesthetic cream
Topical crotomiton for skin irritation
Topical steroids (hydrocortisone or clobetasone butyrate) except where they have proved ineffective or a larger quantity than 30g is required
Topical anitfungals unless combination with steroid required
Topical aciclovir
Topical scalp treatments for seborrheic dermatitis or psoriasis unless failure to respond after one month of regular treatment to antifungal AND tar-based preparations
Bath and shower emollients unless recommended by a specialist dermatologist (this does not affect topical moisturisers, only wash products)
Topical moisturisers (except where required for a chronic skin condition or for skin care in the elderly who would otherwise be at risk of skin breakdown)
Vitamin D except for established osteopenia or osteoprosis or on advice of renal unit
Vitamin B12 1000micrograms for those found to have a low B12 (except in those with megaloblastic anaemia, evidence of pernicious anaemia or gastrectomy)
Topical treatmet for oral candidiasis
Antiseptic mouth washes
Oral nutritional supplements (except when being used in line with the latest OCCG guidance on when these may be prescribed)
Gluten-free foods (except when being used in line with the latest OCCG guidance on when these may be prescribed)
Latest guidelines from the OCCG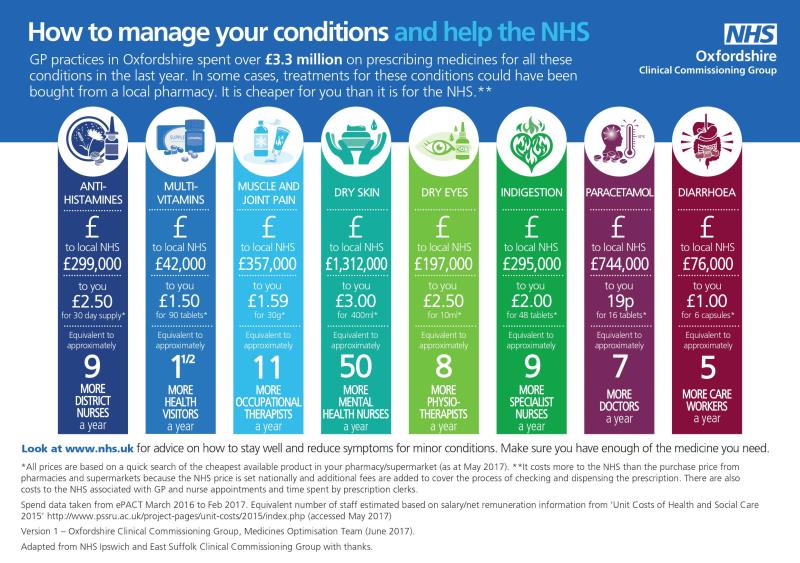 We use cookies to help provide you with the best possible online experience.
By using this site, you agree that we may store and access cookies on your device. Cookie policy. Cookie settings.
Functional Cookies
Functional Cookies are enabled by default at all times so that we can save your preferences for cookie settings and ensure site works and delivers best experience.
3rd Party Cookies
This website uses Google Analytics to collect anonymous information such as the number of visitors to the site, and the most popular pages.
Keeping this cookie enabled helps us to improve our website.